Valentina, who is also Mexican living in Granada, Spain, contacted me because she was going to open a Mezcalería in Granada and needed my services. A logo, menu, the visual identity and concept. 
She had an idea for the name but she was not totally sure: "La Valentona", which means "brave" in feminine. 
When we met, a couple of days later, it was clear to me, the name was perfect for her and this project. So I encourage her to use it! 
It was going to be inside the Mercado de San Agustin, jus a few steps away from the Cathedral in Granada. 
We talked about some ideas we had for the concept and the logo.
Here is my resume:

Context:
Mercado de San Agustin, Granada, España. 
Direct competitors:
 Mexican restaurants, Mexican shops in Granada. 
Differentiators:
 The authentic experience of enjoying Mezcal.
Oaxaca:

 I
ts streets, murals, engravings, culture. 
Mexican & Oaxaca markets:
Fruit, fresh colours, wood, plants, tropical environment...
The Mezcal
& its elements:
Agave, Maguey, Worm, Chapulin, Orange, typical little glass...
Feminine strength:
 Mother earth, the beginning, ancestors, divinity, the vulva
Mayahuel:
The goddess of the Agave
Items to avoid:
Images of Frida Kahlo, typical graphics such as papel picado, sarapes, Mexican flags, Mexican hats, too colorful...
Aesthetics to follow:
Old Mexican markets, pharmacies, Altar of the dead, Oaxaca urban aesthetics: Murals, Engravings, Urban Art, Feminine strength.
Our goal:
  Making an altar to Mezcal - Deity.  Mixed with Sophistication, Minimalism, Cleanliness, 
First drafts for the logo
I started using the shape for the agave which is pretty angled, just like the letter V so I combined them for the first drafts.
Sometimes I added lines around to resemble the divine side of Mayahuel.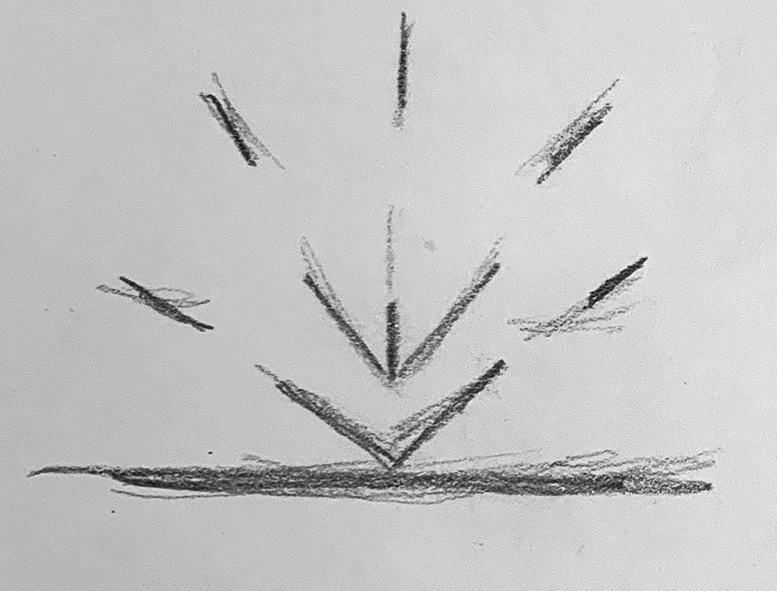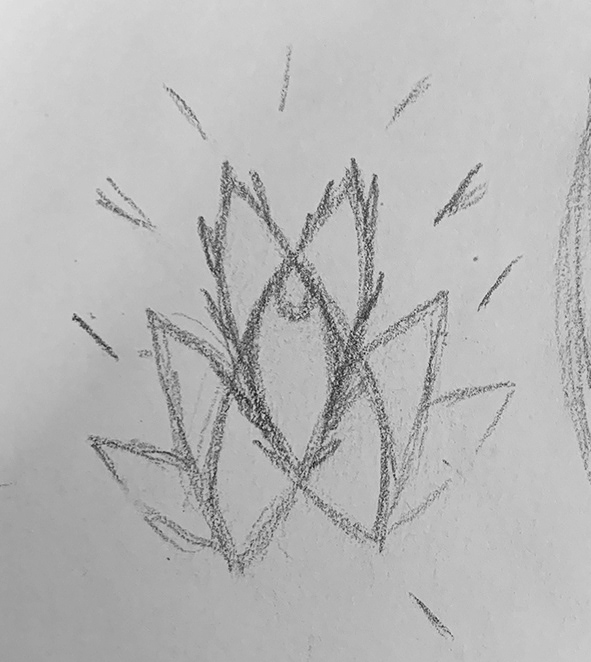 Delivering the first ideas to my client
Based on the concept and the elements Agave + Mayahuel + Vulva I delivered these options to my client. Normally I deliver black and white but this time I decided to add colour to some of them as we already talked about using magenta, yellow and orange.
My client selected 3 options for the logo, so I made some adjustments and applied them to the outside shop.
Final version for the logo. 
Outdoor signage 
We needed an illustration for the outside door. I used the famous Mexican said "Para todo mal, mezcal y para todo bien, también" which means: "For all evil, mezcal and for all good, too" I added the typical glass for mezcal holded by a feminine hand.